In a world where we interact with screens 24/7, digital signage provides the most flexible and compelling solution to connect brands and businesses with consumers and internal staff.  Whether you want one screen or a complete network of screens throughout your business for internal and external communication, you need to use a supplier who will work with you to identify the best solution for your needs and budget.
Using digital signage to engage, motivate and impress your audience
Digital signage isn't just reserved for Piccadilly Circus or Times Square, it can benefit every industry from corporate, retail and hospitality to transportation, education and healthcare to captivate and engage your internal and external audience.  
Improve in-store experience, encourage customer interaction, relay up to the minute information, entertain, display marketing messages and improve the perception of your brand – the possibilities are limitless!
As a one-time expense, you can quickly recuperate your investment with savings in print and administration costs as cloud software allows screens to be updated by one person for multiple installations.
Find out how you can best utilise use this powerful method of communication in the following areas: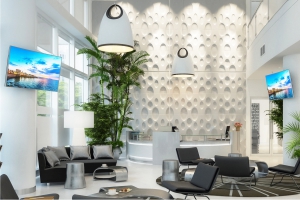 Using digital signage in the workplace
It's widely accepted that an engaging environment for employees results in better retention, positivity and increased creativity and productivity. Digital communications on devices like digital signs, video walls, outdoor and indoor LED, meeting room screens, tablets and mobile phones ensures that the right information reaches employees at the right time.
Digital communication and signage solutions are an essential component of Smart Building Technology. We integrate your audiovisual and IT solutions to combine multimedia, lighting and sound to create the right ambience both inside and outside of a building while displaying important information.
A digital signage solution will consist of screens, networks, cloud software and content.  Getting the right combination can be challenging. Here's where you need to call in the experts! We will understand how your business operates, consider your needs for future growth and provide solutions for your specific needs.
Make the right technology decisions for your business – call to discuss your requirements on 0330 133 0902.