workplace Technology
Digital signage software as a service
DIGITAL SIGNAGE SOFTWARE AS A SERVICE (SaaS)
Digital signage software as a service is a scalable and cost-effective solution for managing your digital signage network of displays. SaaS enables companies of all sizes to deliver impactful communications to inform and engage staff, visitors and customers with up-to-date information, company bulletins and branded content across their digital signage network.
Improve your physical workspace
Digital signage improves the physical workspace throughout your workspaces from the moment visitors and employees enter your building. Improve employee experience with engaging and informative displays in reception and waiting areas, breakout spaces, café's or open hub areas and outside meeting spaces.
Reception area
Enhance visitor experience with digital signage in reception and waiting areas. Connect with every employee and provide information about company updates such as meeting room and space availability. Welcome visitors with branded messages and create a great first impression.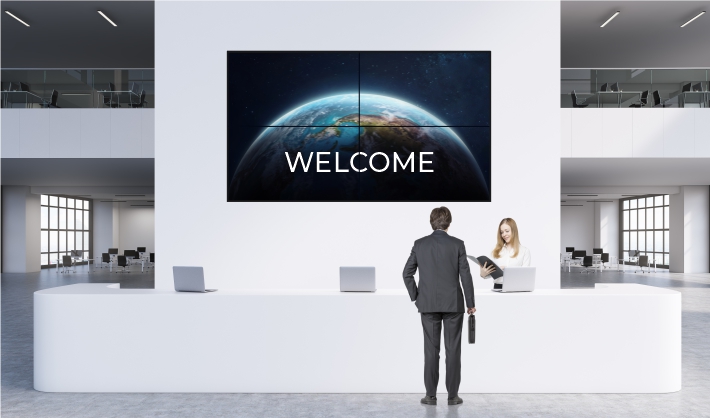 Wayfinding
Provide intuitive information to help visitors navigate your offices with ease. View floor plans, locate meeting rooms and colleagues.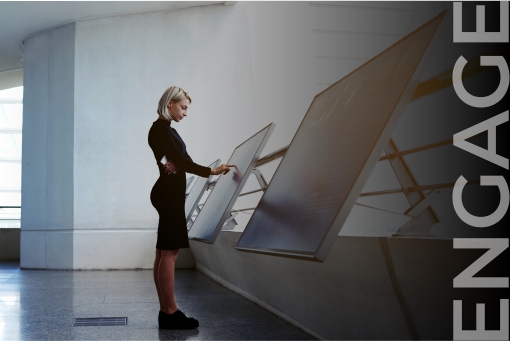 Meeting room information
Digital signage can be utilised to organise your meeting rooms with synchronised calendars, display meeting information such as location, occupancy, safety and specific information.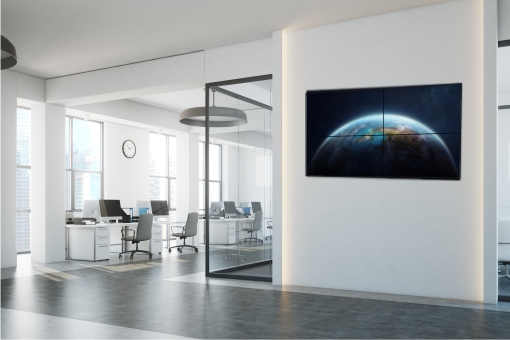 Communal areas
Digital signage in hub areas, waiting areas, cafes and where employees go to relax, serve as a perfect location to communicate through signage. Share inspirational messages, recognise outstanding employee achievements, commemorate birthdays and events, display safety measures and critical information… the list is almost endless!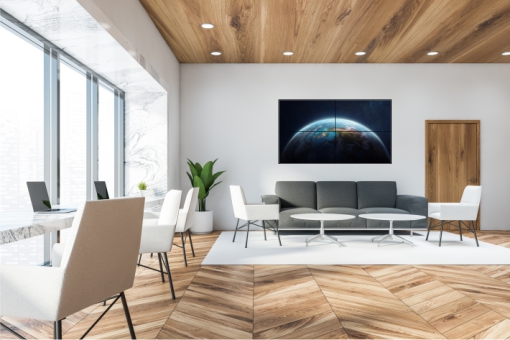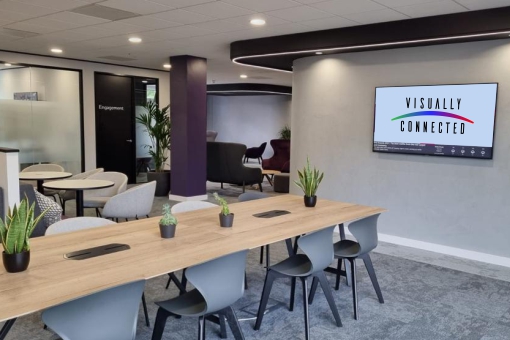 Digital Signage SaaS service includes the following:
VC Digital Signage software and hardware
Template set-up
User training sessions
Hosting
New VC Windows players – faulty players will be replaced immediately
Labour cost involved with the installation/ change of players
Patch management incl. antivirus protection
VC software package updates
24/7 monitored service incl. email alerts and reports daily, monthly or quarterly reports
Annual health check and summary report
Stream live news, company events and training across your network to keep satellite offices connected.
Reinforce corporate communications with branded messages and create a sense of community by sharing high-value information such as training, company-wide announcements or KPIs and recognise achievements.
Give your employees a shared sense of commitment with branded content and provide information about your latest products and services to customers and visitors.
From a single display to hundreds Visually Connected's SaaS can easily be scaled up and down according to your needs.
Benefit from the latest technology and software updates. We will keep your hardware and software up to date will make sure that your complete solution is future proof, secure and has the latest firmware. We will exchange hardware immediately is any issues arise.
To experience the benefits of our managed solutions, call us on 0330 133 0902 to speak to one of our experts.