Intuitive. Intelligent. Integrated.
AV over IP Solutions offer the way forward with
opportunities for cost savings, flexibility and future-proofing
Save time, save money, increase internal security and benefit from an efficient 24/7 support and maintenance service.
AV-over- IP (AVoIP) stands for "Audio-Visual over Internet Protocol". It uses standard IT networking equipment to transmit audio visual data over the internet, LAN or WAN networks.
AV-over-IP solutions are expanding rapidly with the rise in remote working enabling businesses to extend their audio-visual solutions beyond the physical workspace and traditional meeting rooms.
It provides an easy to manage flexible solution to enable businesses to deliver high-quality audio, video and control signals over long distances. Common settings for AV-over-IP are universities, public spaces, stadiums, and large enterprises who deploy digital signage and IPTV.
A common misconception about migrating from hardwired AV to AV-over-IP is that the latter introduces more security risks than traditional AV. With more flexibility and new deployment options, education is the best ally to AV administrators.
To find out more about AV over IP solutions, call us on 0330 133 0902 speak to one of our experts.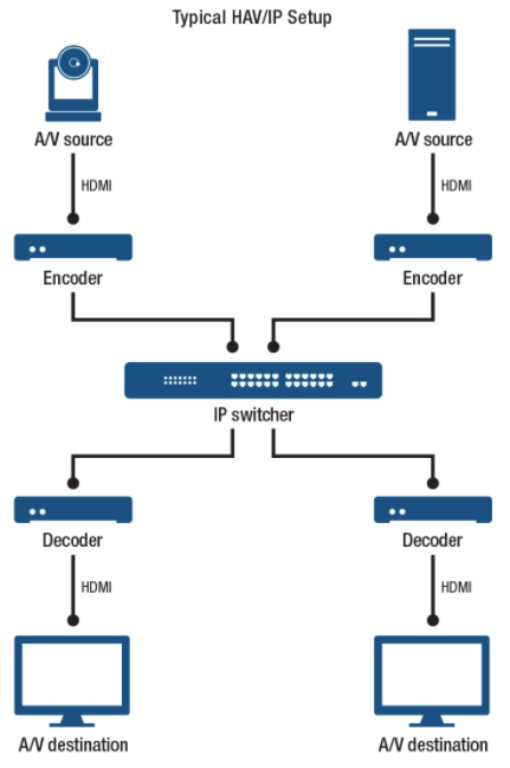 Cost saving
AVoIP reduces installation time as no additional complex cabling is required. AVoIP utilises existing networks and equipment (if your bandwidth requirements are low) and the costs for scaling up are also significantly less than alternative networks.
Additional security
AV-over-IP can be deployed on entirely segregated network (VLAN) that cannot communicate to the rest of the network such as the corporate data or communications network.
Most products provide encryption on the command-and-control signalling to encoder and decoder devices – this offers security against hacking the actions of the boxes—including turning streaming on or off, or switching what source is being displayed.
Manageable
Devices connected to an IP network can easily be monitored from a central platform, and can also be configured, updated remotely, serviced and maintained remotely.
Greater distance – AV over IP can be transmitted over fibre optic or copper cable easily.
High performance and scalability
A network-based system can accommodate a large number of devices and is only limited by the IP network it is connected to.
Audio Visual Support and Maintenance
We provide an intelligent 24/7 monitored, support and maintenance solution designed to keep your audio visual and video conferencing systems at peak performance. Our proactive audiovisual support service maintains your workplace technology to ensure that all your devices are connected, updated and ready for use.
Avoid the frustration of meeting delays due to technology issues, reduce downtime and increase productivity and benefit from a return on your technology investments. From single, multi-site and global enterprises, whatever the size of your audiovisual estate, we will keep your technology working so you can keep working.