Intuitive. Intelligent. Integrated.
Unify business-based communications and collaboration technology to transform the user experience
Transform the user experience for anywhere working with our range of unified communications solutions to bring together technology and your people to succeed in today's working environment.
Unified Communications merges the everyday business communication functions such as chat, call, video conferencing, data and file sharing into one interoperable system. UC isn't a new concept, in fact, it's been around since the mid-90's integrating voice communications, messages and online interactions.
The pandemic accelerated the need for unified communications for daily online interactions with huge demand for work from home and work from anywhere solutions. Flexible user-friendly platforms such as Microsoft Teams that enabled employees to collaborate in real-time through chat, voice, and video calls and file-sharing became essential components of day-to-day business operations.
Today, the shift to hybrid working and rise in BOYD has further accelerated the number of companies adopting UC technology.
Unified Communications is important for businesses like yours
The following excerpts  highlight importance of unified communications for businesses:
Video conferencing and team collaboration tools are must-have investments with around 95% of survey respondents in 2021 said they use collaboration tools such as Microsoft Teams or Zoom.*
91% of respondents use collaboration platforms and tools for connecting remote workers*
The two most popular video conferencing tools, according to respondents, were Microsoft Teams (73%) and Zoom (63%)*.
A Gartner survey in 2021 reveals that nearly 80% of workers were using team collaboration tools for work which is an increase of 44% since the pandemic began.
*TechRepublic Premium poll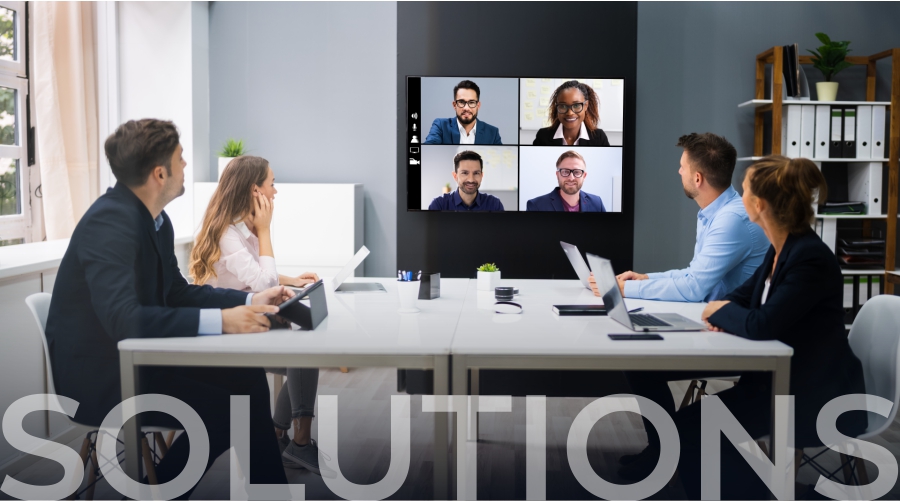 Benefits of UC:
Improve existing processes
Boost employee engagement and productivity
Easy to use
Increase team-based productivity
Enhance organizational agility
Reduce costs
Keeps information safe and secure
Flexible solutions for meeting rooms of all sizes for video conferencing, collaboration and content sharing.
Why your business needs unified communications:
Increases employee productivity – One platform to unify business tools together improves the efficiency and speed that tasks can be completed. UC enables employees (remote or in-office) to have access to tools and files as and when they are needed and enables productive multi-tasking and collaboration and engagement with colleagues.
Easy collaboration – UC provides real-time access to working files enabling colleagues to work together on a single file without the need to save multiple versions.
Low-cost solution – Adopt unified communications solutions does not require a big technological investment. At a minimum, you need an internet service provider, a router and modem and a capable PC, and you and your employees will have supplied the mobile devices to talk to each other.
Remote work support – UC platforms such as Microsoft Teams are feature-rich enabling a seamless transition between remote and in-office workers. Connecting with your colleagues at the tap of a button or making a presentation to your client with the ability to collaborate in real-time is truly a game-changer.
Customer experience – Unified communications make it easier for customers to access your business and being able to do so using any platform keeps your brand image front of mind. Studies show that over 80% of businesses compete on the basis of customer experience and having an effective UC solution is key to success on this front.
Streamlined IT – In the past, employees resorted to shadow IT using their preferred messaging apps or portable drives which made businesses vulnerable to data and security breaches.  Today's unified communication platforms free up the IT department providing robust, multi-tiered security protocols such as encrypted chat to ensure that data is accessible only to authorized users and personnel.
UC technologies:
UC is a blend of old and new technologies to form the best user experiences. It is common for businesses to use multiple technologies that include the following features:
High-quality audio and video
Messaging apps: e-mail, chat, voice mail, SMS
Call control
Web conferencing
Document sharing apps
Mobility
Meeting transcription
Screen sharing
Virtual backgrounds
Noise suppression and muting
Language translation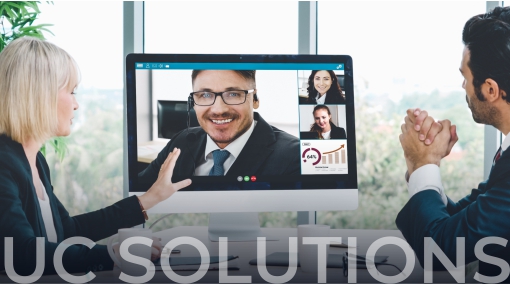 What is the future of UC?
Artificial intelligence in takes integrated communication tools to the next level. AI driven tools such as meeting transcription and chatbot meeting scheduling are two examples of AI applications in unified communication. Having these tools frees up valuable time for employees to focus on other tasks whilst also increasing efficiency.
Get in touch for help choosing the right easy to manage Unified Communications solution for your business