Transform your work spaces with QUBIC smart meeting booths
Easy to set up, flexible and infinitely customisable
Transform your unused spaces with private, secure bookable meeting spaces away from the noise and distractions of the office and high traffic areas. QUBIC smart meeting booths provide an affordable and fast solution to add more meeting spaces and fully utilise available floor space in your offices or lobby area.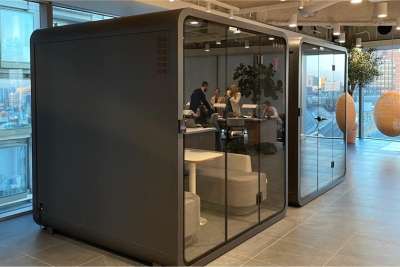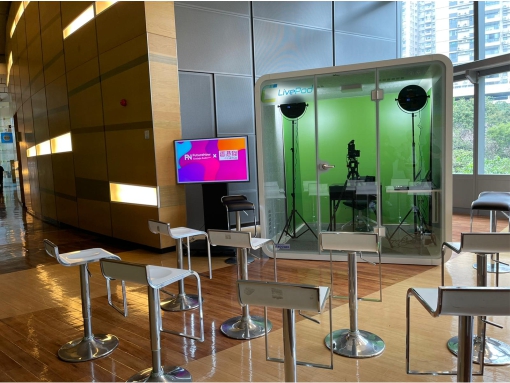 SECURE & BOOKABLE MEETING SPACES FOR A PRODUCTIVE RETREAT
Open-plan offices are ideal for work collaboration and communication amongst employees; however, the constant hub of activity, noise, and distraction can hamper productivity and increase stress levels. With meeting rooms in high demand and break-out spaces within the office throng offering little solace, smart booths provide a welcome quiet space where individuals can retreat to a comfortable private space to make that confidential call or quiet knowledge work and groups can convene for important meetings and video conferencing.
QUBIC booths are fully equipped with everything you might need for a meeting environment and are adaptable for a variety of uses.
One booth – A hundred possibilities
Private spaces for video conferencing with high-quality equipment as standard
Quiet spaces for sales, tutoring, and knowledge work
Soundproof rooms for podcasting, streaming and wellness
Extended amenities for guests in lobby and public areas
Add more meeting rooms as an alternative to costly renovations
Create pay-per-use private work booths, ideal for coworking and serviced offices
Here are some ideal places to install QUBIC meeting booths:
Open-plan offices/breakout areas
Hotels
Cafés and restaurants
Shopping Centres
Foyers, lobbies, and public areas
Exhibitions halls
What is good to know is that you can generate an income from all booths installed.
Soundproof, secure and customisable, they are a cost-effective way to instantly add bookable meeting rooms to your spaces. Booths are available in 4 sizes for 1 to 6 people and a range of colours to compliment your environment.
Dashboard for usage statistics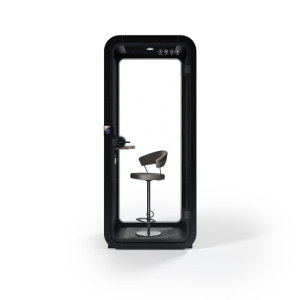 Solo booth
Phone booth
External Dimensions (mm):
936 (D) x 1000 (W) x 2300 (H)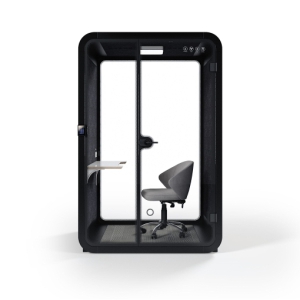 Duo booth
3 Person meeting booth
External Dimensions (mm):
1236 (D) x 1500 (W) x 2300 (H)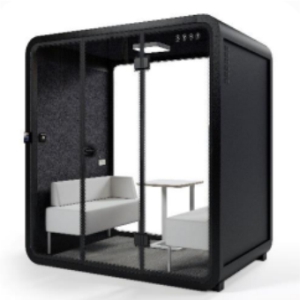 Quad booth
3-4 Person booth
External Dimensions (mm):
1536 (D) x 2200 (W) x 2300 (H)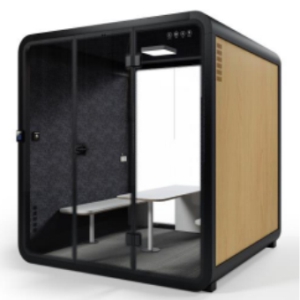 Ultra booth
5-6 Person booth
External Dimensions (mm):
2136 (D) x 2200 (W) x 2300 (H)

QUBIC booths offer top-of-the-line quality for half the price of similar premium booths and up to 70% less than traditional office renovations. fit-outs. Quickly transform your office, co-working spaces and high traffic areas to provide a destination and experience to come back to.
Customisable – Available in 4 different sizes and colours
Add features – you can add on equipment features such as video conferencing
Flexible – You can move booths around to different spaces as you need
Total control – Manage bookings and get 24/7 security through access control
Usage data – Track the results of your pod investment through utilization data
1-day Installation – Transform your space in less than 1 day
Reduced CapEx – Lower costs by at least 70% compared to a traditional fit-out
MONETISE YOUR SPACES WITH PAY-PER-USE
QUBIC booths present opportunities to monetise spaces with pay-per-use and a speedy return on your investment.
BOOK A BOOTH WITH ANY DEVICE
Using the QUBIC web app, customized for your brand, guests can easily enter the booth from any device, no downloads needed. (Available as an add-on)
Scan QR Code – Use your phone to scan a QUBIC QR code and open the web app.
Book Session – Book your session without installing anything on your phone
Enter Pod – Scan the QR Code in your email confirmation on the access control – and you've made it!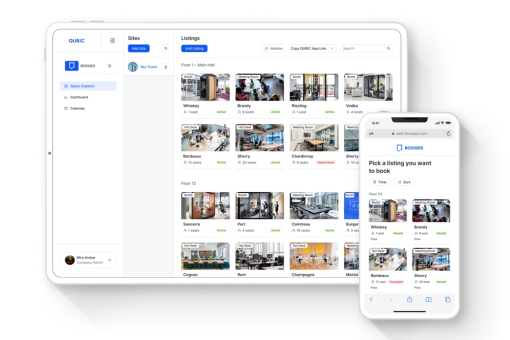 Easily manage Qubic booths
The QUBIC solution comes with an admin panel, so you can see data on booth usage, and know the ROI of your new asset. (Available as an add-on)
Analytics Dashboard – Detailed statistics of how people use the space over time
Booking Calendar – See and manage all current bookings in a real time
Space Management – Manage your pods, spaces and assign managers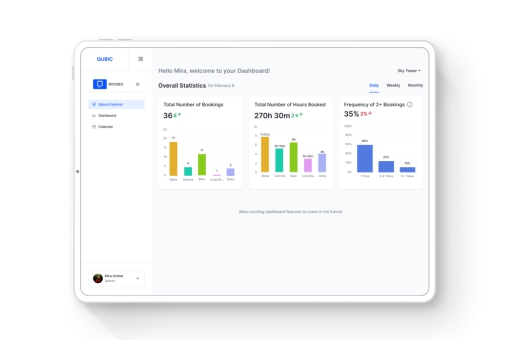 Transform and utilise all your work spaces
Transform your workplace and under-utilised floor space with a range of multi-purpose meeting rooms where your people can thrive and innovate.
Call or expert team for further information.