AV solutions for every meeting space
Most businesses today have their own unique mix of in-office employees, remote workers and freelancers or contractors. This requires working agile environments with the right audiovisual equipment to support productive meetings everywhere from huddle spaces, communal areas to large meeting rooms and conference rooms.
Technology issues are the main cause of meeting delays and disruption. A Barco study into meeting room problems highlighted that almost nine out of ten respondents experience technology-related stress about meetings. Aside from causing frustrations, delaying meetings, extended meeting times and decreasing productivity, time wasted by technology inefficiencies can seriously impact your businesses bottom line.
There are many aspects to creating good meeting spaces, but having a reliable, high quality, user-friendly audio visual system with the right equipment is essential to give employees their time back and enable them to have efficient and productive meetings.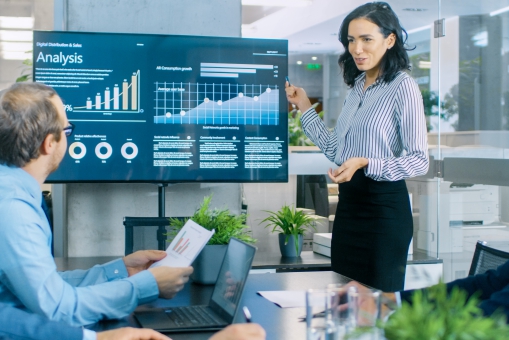 Meeting room technology 'Must-Haves'
Meeting rooms can have a variety of purposes, for example, a BOYD-friendly meeting room where visitors can connect and make presentations, a dedicated video conferencing room, a training room, multi-purpose spaces, or creative collaboration spaces. 
Here we provide a guide to the different types of AV equipment for your spaces but firstly, regardless of room type, here are the must-have items that should be standard:
Power supplies: electrical outlets, extenders or built-in table solutions
Writing surface such as an interactive whiteboard
A TV screen or display
A screen-sharing solution such as a projector, wireless or wired solution
Huddle spaces and smart booths
Typically, a huddle room is a small area for 3 to 6 people to step away from the busy office environment to collaborate. These spaces are ideal for video conferencing as well as for informal adhoc meetings.
An audio system with a microphone and loudspeaker such as the Shure Microflex Ecosystem is ideal for small spaces. There are many speakerphones that have been designed with small room usage in mind such as the Poly Sync 40 which provides remarkable sound—perfect for flexible spaces and huddle spaces. Video collaboration is a must for remote meetings so investing in a good web camera can enhance the meeting experience. Users may bring their own devices such as a laptop however a display will be useful for onscreen collaboration for seeing who they are talking to and sharing documents in real-time.
Smart Meeting booths
Transform your unused spaces with private, secure bookable meeting spaces away from the noise and distractions of the office. QUBIC smart meeting booths are fully equipped with everything you might need for a meeting and provide an affordable solution to add meeting spaces to fully utilise available floor space.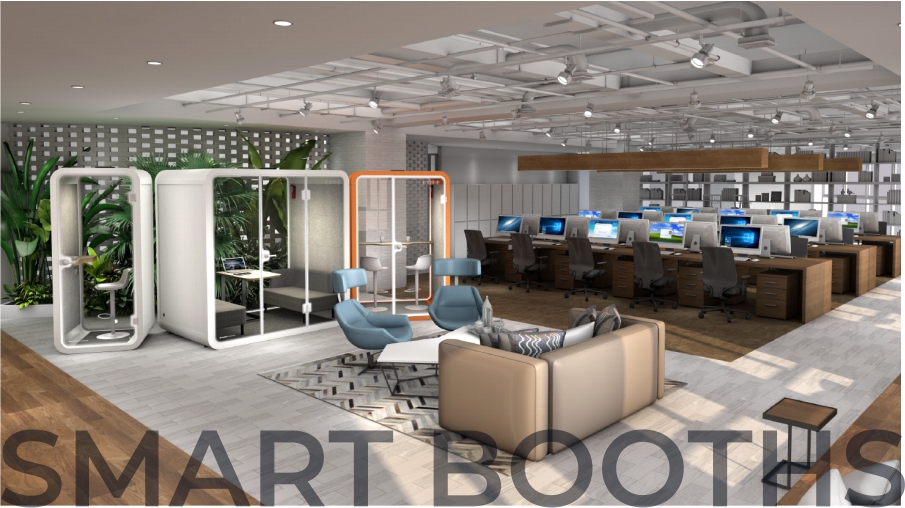 Av solutions for medium-sized meeting rooms
Medium sizes meeting rooms provide a more formal environment for meetings and with the right equipment can be a hub for productive group work. It is essential that your meeting rooms are easily adapted to your users with easy-to-use walk-in and use equipment the ability to accommodate personal devices (BYOD). All your meeting rooms should be accessible to everyone so we recommend that you choose a standard across your technology for the same experience in every meeting room. Typical audio visual technologies include video conferencing and collaboration systems, wireless presentation for content sharing and room control systems to simplify the management of your meeting room technology.  Medium meeting rooms will benefit from a robust sound system such as ceiling microphones and voice tracking camera.
With meeting rooms in high demand, we recommend investing in a room booking system to optimise the use of your meeting spaces and increasing work efficiency. ROOMZ is easy to use solution to provide clear information about meeting room availability, capacity.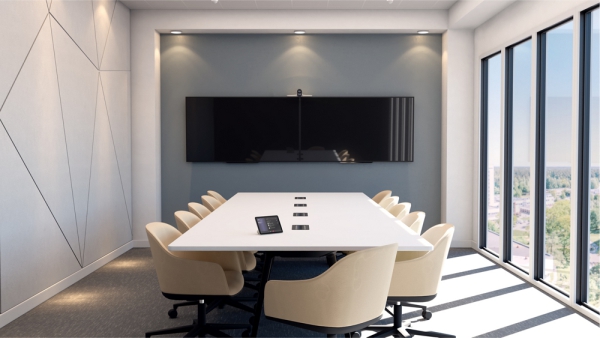 Large meeting rooms and conference rooms
The technology in your conference room is important to the success of your employees as well as meetings with business guests and clients. Typical equipment features for conference rooms include a display, sound system, speakerphone, interactive whiteboard and wireless system but it is important to implement in the technology users actually need to get the most from your investment.
The point of technology is to make things easier not harder and your conference room technology includes a variety of components.  A wireless presentation system enables everyone to quickly and easily connect in room equipment and BOYD. An essential component of every conference room is the display and depending on the size of the room it may be equipped with a projector or a video wall to give the perfect experience for everyone. Your display will be used for video conferencing, presentation or any inputs coming from computers.
For conferencing you need to choose audio equipment based on scale to allow for clear audio for everyone in the room. Having quality microphone and speaker equipment is essential for the performance of your conference room and should be selected based on the size of your conference room, the table, the number of participants and seats. The Shure Stem Ecosystem gives you the freedom to scale your audio system for an effortless experience in any room and the ceiling array ensures no one gets let out of the conversation.
Using wide angle or 360º lenses with smart cameras and microphones, you need a webcam designed to allow the whole room to participate. We tested the PTC500s camera from Aver that has a powerful optical zoom, dual lens design and multi-presenter detection. The camera easily integrates with the Shure MXA910 Microflex Advance microphone ceiling panel via the free-of-charge PTZ Link software. The link recognises which microphone lobe is active and will point the camera to active speaker.
An AV control system connects all the different AV equipment in a meeting space so that you can control everything in the room from one interface. This eliminates the mass of cables and remote controls and enables a seamless experience across all devices. You can access all components at once and manage any event or presentation with an overall view. You can see the camera positioning, adjust the audio setting, lighting, speakers and microphone, connectivity and display.
Solutions for every meeting space
Our experienced team of designers, programmers, and engineers choose from the best audiovisual and communication systems to create your meeting room solution. We will work with you to identify and deploy the workplace technology that solves the particular challenges of your organisation and offers the best fit for your people, environment, and budget.
Please get in touch with our technical experts.