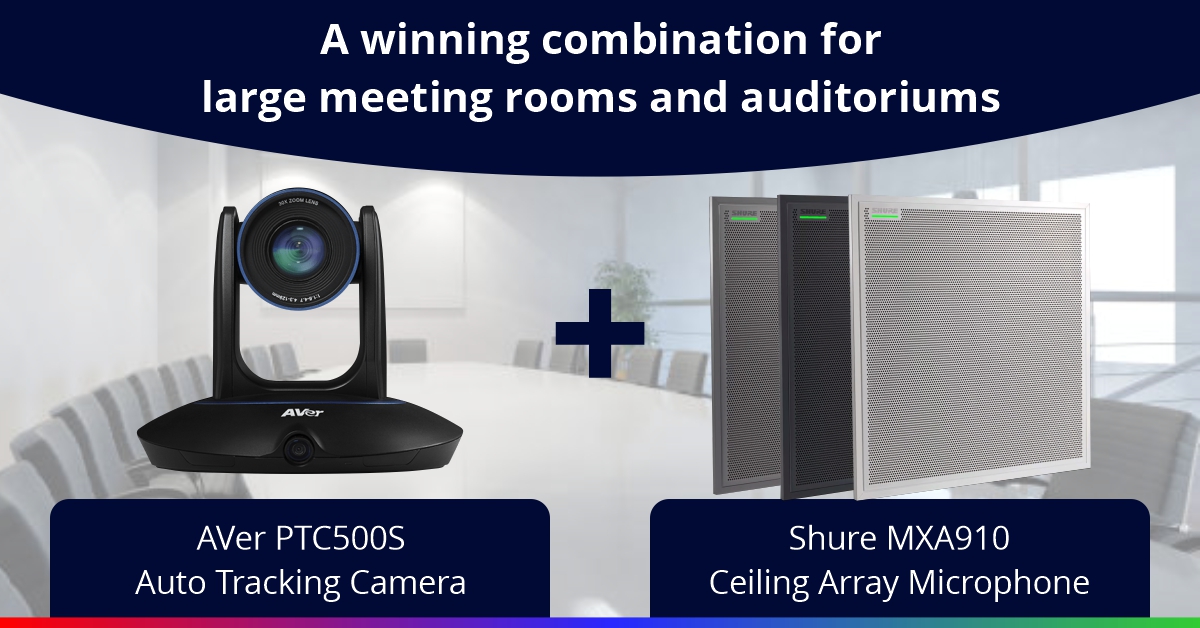 A winning combination
We're busy testing the new powerful camera from AVer the PTC500S. This camera has a powerful optical zoom, dual lens design and multi-presenter detection. The camera easily integrates with the Shure MXA910 Microflex Advance microphone ceiling panel via the free-of-charge PTZ Link software. The link recognises which microphone lobe is active and will point the camera to active speaker.
This winning combination provides a low-cost solution using high-end equipment compared to market alternatives.
Easy integration
The PTC500S integrates auto-tracking, multi-presenter detection, and streaming with a superior dual-lens tracking design. Boasting a PTZ camera with a powerful 30X optical zoom and a secondary 120° FOV panoramic camera, the PTC500S stably captures Full HD 1080p video without the need for a camera operator.
With the aid of PTZ Link, you can easily turn AVer's PTZ camera into a voice tracking camera by setting preset points.
Shure MXA910 ceiling microphone eliminates all equipment clutter and works with 8 steerable lobes. Each lobe sends a command string to activate the camera and automatically turns the camera to the speaker. The combination of the Aver PTC500S camera and the Shure MX910 Microflex Advance microphone ceiling panel is ideal for enhancing the room environment providing better feed to the user and a more engaging experience for video conferencing.
If you would like to learn more about any of our featured products, please call our expert team. 0330 133 0902