Hybrid Workplace Technology
Hybrid working is the future of the workplace
The way we work has changed and hybrid working is likely to be here to stay. Hybrid working is where the employees both are remote and in the office. Homeworking has for many enterprises, proved to be a success where many employees have the option to work staggered times and on different days in the office to allow for distancing. Effective communication with remote workers and in-office workers would not be possible without hybrid workplace technology.
The hybrid working model has many challenges, particularly in how to create a seamless communication between employees in different locations, with various flexible working hours and managing security and safety for all.
One crucial factor for successful hybrid working is to make sure that the right adaptable technology solution is chosen to create a smooth, efficient and positive hybrid office experience.
We can help you create an employee experience that brings people and technology together wherever they are in the world to:
Enable a safe and productive return to the office
Adopt the right integrated hybrid office and communication tools with automated processes to enable meet, call and chat in a single place.
Make every collaboration experience secure, inclusive and engaging.
Create safer spaces that are touchless, voice-activated and smart
Streamline building access and resource booking
Lay the foundation for the next-gen workplace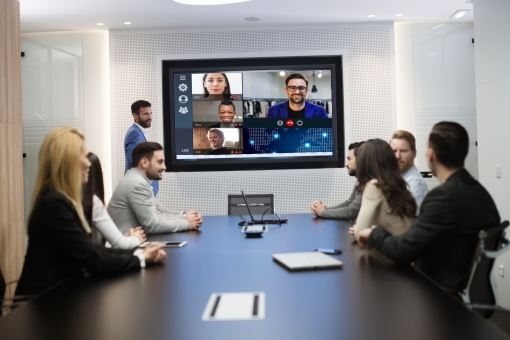 Benefit from the same experience from almost any location, whether home office, small or large meeting areas, or boardroom. Find out about video conferencing solutions for your meeting spaces here.
Video Conferencing as a Service
Leave your collaboration technology to the experts and benefit from high-end, scalable, integrated video conferencing solutions monitored 24/7. Remove product obsolescence, ease cash flow and remove capital expense.
Video Conferencing as a Service will make sure that your rooms are always connected and meeting ready. We implement the latest software and technology together with 24/7 support – all for an attractive monthly fee.
Benefits
Improved alignment with the business needs – streamlined solutions – the same way of use for small, medium and large room solutions throughout all your offices
Greater agility and responsiveness – all solutions scalable, compatible, and integrated
Increased productivity – no more worries about the collaborative technology and need for any special training/skills required
Improved reliability and uptime- 24/7 proactive support and maintenance service
Stay up to date with the latest technology – no more outdated software and hardware
Lower operation cost – flexible payment options and predictable monthly payments