Hybrid Workplace Technology
Hybrid working – the future of the workplace
The way we work has changed forever and hybrid working is here to stay. Nowadays, many of us are switching between two work environments, collaborating with colleagues in the office and at home.
The hybrid working model requires and activity-based working environment where employees can choose between quiet spaces for concentration, casual areas or breakout spaces for informal conversations and ad-hoc meetings, or dedicated conference rooms equipped with video conferencing technology.
The majority of existing workplace technology meets the needs of businesses with either an all-remote or all-in-person staff. We can help you move beyond "all or nothing" workplace technology with flexible solutions that meet the needs of your enterprise and create a workplace where people want to be.
A crucial factor for successful hybrid working is adopting the right technology to create a seamless hybrid office experience. We can help you create an employee experience that brings people and technology together wherever work needs to happen.
Microsoft Teams
Microsoft enables meeting experiences that allow people to be there, from anywhere, at any time. These meetings are hybrid, which means you can join them seamlessly. Meetings enhanced with Microsoft devices are inclusive; every voice is heard, and everyone is clearly represented. Learn more.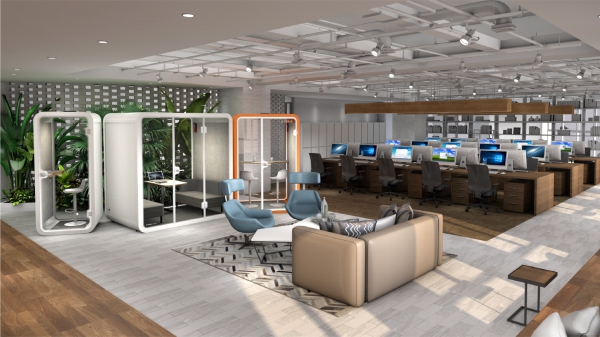 Small meeting spaces
Huddle space, break-out area, or smart booths with easy connectivity provide the ideal spaces for small groups to step away from the busy office environment to collaborate. These spaces are ideal for video conferencing as well as for informal adhoc meetings.  Video collaboration is a must for remote meetings so investing a good web camera can enhance the meeting experience.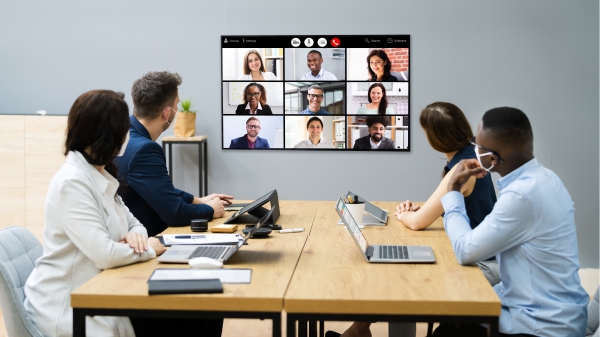 Medium sized meeting spaces
Medium-sized meeting rooms provide a more formal environment with easy-to-use equipment able to accommodate personal devices. Typical AV technologies include video conferencing and collaboration systems, a wireless presentation, and room control system to simplify the management of your meeting room technology. A robust sound system such as ceiling microphones and a voice tracking camera may also be beneficial.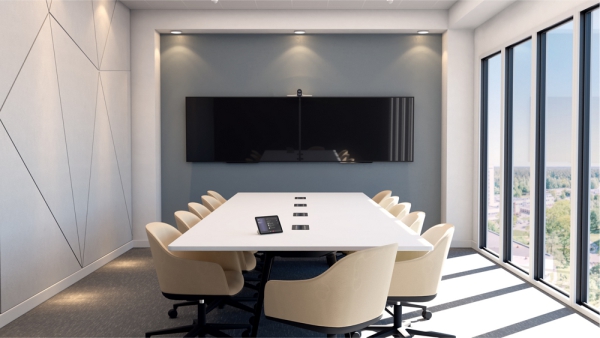 Large meeting rooms
Typical equipment features for large meeting spaces include a display, sound system, speakerphone, interactive whiteboard and wireless system. The display may be equipped with a projector or a video wall to give the perfect experience for everyone and audio equipment based on scale to allow for clear audio for everyone in the room. Using wide angle or 360º lenses with smart cameras and microphones allow the whole room to participate
Solutions for every communication platform
We work closely with leading hardware manufacturers to create systems that are easy to use and offer everything you need for successful collaboration. From a dedicated room solution such as Zoom, Microsoft Teams and Google Meet or multiple platform solution we have the right solution for you. Please get in touch with our technical experts.
We can help you create an employee experience that brings people and technology together wherever they are in the world to:
Enable a safe and productive return to the office
Adopt the right integrated hybrid office and communication tools with automated processes to enable meet, call and chat in a single place.
Make every collaboration experience secure, inclusive and engaging.
Create safer spaces that are touchless, voice-activated and smart
Streamline building access and resource booking
Lay the foundation for the next-gen workplace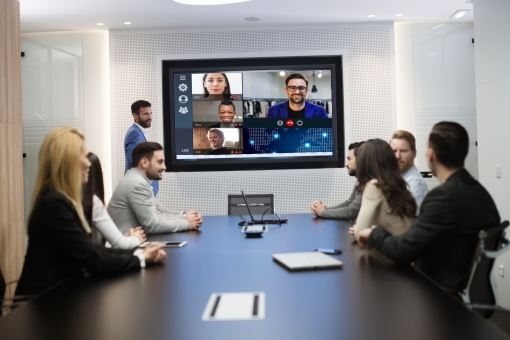 Benefit from the same experience from almost any location, whether home office, small or large meeting areas, or boardroom. Find out about video conferencing solutions for your meeting spaces here.
Video Conferencing as a Service
Leave your collaboration technology to the experts and benefit from high-end, scalable, integrated video conferencing solutions monitored 24/7. Remove product obsolescence, ease cash flow and remove capital expense.
Video Conferencing as a Service will make sure that your rooms are always connected and meeting ready. We implement the latest software and technology together with 24/7 support – all for an attractive monthly fee.
Benefits
Improved alignment with the business needs – streamlined solutions – the same way of use for small, medium and large room solutions throughout all your offices
Greater agility and responsiveness – all solutions scalable, compatible, and integrated
Increased productivity – no more worries about the collaborative technology and need for any special training/skills required
Improved reliability and uptime- 24/7 proactive support and maintenance service
Stay up to date with the latest technology – no more outdated software and hardware
Lower operation cost – flexible payment options and predictable monthly payments