Implementation & Documentation
Intuitive. Intelligent. Integrated.
Audio visual implementation and documentation
Audio visual technology is an essential component of the modern office. Implementing new technology solutions should be an exciting process. We will assign a professional project manager to manage the scope of the project including design, implementation and support of all AV systems and ensure a stress-free experience.
Visually Connected will assess the needs of your enterprise and create a realistic project plan aligning your audiovisual solution to your goals and how your system needs to operate.  Our ability to cooperate with your facility team, IT and other contractors on-site are key factors to a smooth installation. Will will assign an experienced project manager to oversee the whole process and will compile detailed site surveys including audiovisual components, locations for displays and prepare detailed drawings.
As a contractor, the responsibility for all day-to-day delivery aspects during the lifespan of the project will rest with us. This will include responsibility for design, implementation, testing, production of documentation and any training required to enable use of and support for the new solutions. and compile a detail plan to cover all the key components, timelines and resources needed to complete your AV system.
Project Delivery Approach
Overview
When the engagement is underway, we will execute the project and utilise the RACI model.
We have a structured and clear way to describe all stakeholders' roles, responsibilities, and accountabilities. Adopting the PRINCE 2 methodology and RACI is the most efficient way to drive projects forward whilst remaining operationally flexible enough to respond quickly to changes. We can gain a good overview of the tasks, objectives and decisions which need to be made during implementation. Should any delays happen, the RACI model is also a very effective tool to get projects back on track.
Our project delivery team will be led by our technical project manager and supported by a team of technical consultants and engineers. Our technical project manager will be the main point of contact liaising between the client's technical project team, the main build contractor and other identified 3rd party contractors.
Our team has many years' experience working in synergy with client personnel and 3rd‐party contractors to deliver successful projects. Where required, project management services can be extended to cover 3rd‐party contract works in order to maintain a single point of contact.
To complete the project there will be thorough testing, commissioning and completion of documentation. Implementation and documentation can be added to our 24/7 monitored support and maintenance solution.
A typical approach to project delivery is as follows:
Site assessments
Project management
Scope and definition
Risk assessment and methods statements (RAMS)
Planning and communications streaming
Project delivery
Witness testing and user acceptance
Complete detailed asset list
Handover and closure
24/7 monitoring and proactive support and maintenance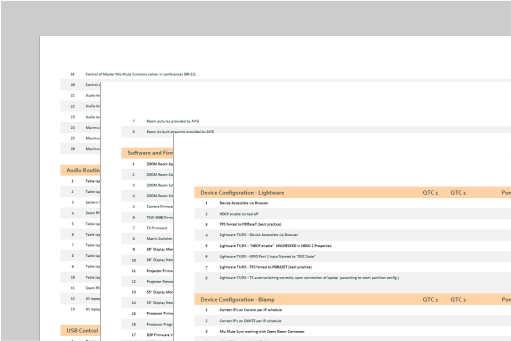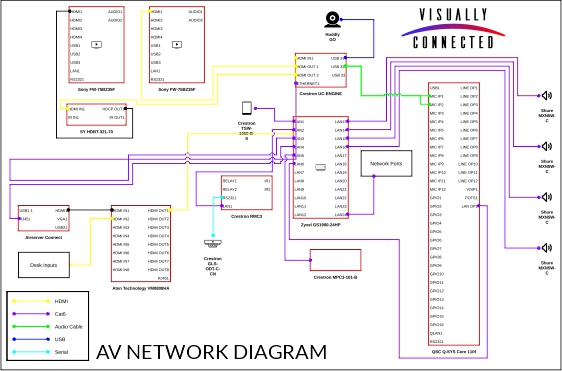 We design AV systems to work well and deliver long-lasting value. We blend audio, video, acoustics, lighting, power, and infrastructure to create effective user-friendly audiovisual systems. We design flexible systems to support your future needs and ever-evolving technologies. You can be assured of reliable and robust systems with a focus on usability so that your people enjoy the same experience in every meeting space.