Digital signage for corporate communication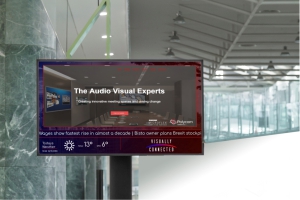 An effective internal communication system supports a seamless flow of information to all employees enabling businesses to fully tap into the knowledge and talents of their people and provide an environment that motivates employees to work towards common goals.
In many office environments, companies struggle to regularly communicate internal news. Emails often get deleted, bulletins are overlooked, the intranet ignored and the in-house magazine is only read by visitors. It's important that staff do not learn about company news from an external source which is a constant challenge with so much information readily available on mobile devices.
A way to manage this situation is to share staff ideas, points of view and company information on a reliable internal communication system. Integrating digital signage with your internal communication system presents many opportunities to:
Increase morale
Deliver important messages
Reinforce brand values
Praise good performance and shout about successful projects
Maintain dialogue between high-level management and employees
Share experiences with employees in other offices in the country or abroad
Broadcast important speeches and events to other locations
Display sales or production performances
Display entertainment such as news, weather, traffic information etc.
Cut paper waste and reduce administration time
Information displays are best utilised in high traffic areas such as canteens, break areas, outside meeting rooms, sales offices, production areas, logistic areas, call centres and service centres.
To ensure you get the best impact and return on your investment, it is important that your content is informative and relevant and that your displays are positioned correctly. Get in touch with our team to guide you through these processes.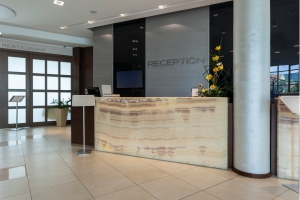 Digital signage for reception areas
Imagine the impact a stunning digital display will have on your customers when they enter your reception area? Digital communication is a highly effective method to ensure that you communicate with your clients, guests and partners in a way that reflects your brand personality. A digital signage solution can provide so much more:
Inform and educate your visitors about your company's activities
Display marketing messages and encourage visitors to connect and follow via social media
Combine branded content with news and entertainment
Wayfinder
Our Wayfinder software provides dynamic AI routing to guide your visitors to the right location whilst considering accessibility and multi-floor journeys. A range of information can be provided such as visitor information, health and safety regulations and car park information. Users can also download maps and access routes for onward travel via public transport.
Guest registration
Streamline your front desk with a quick and easy guest registration system. As there is no limitation on content, you can customise your visitor experience with welcoming messages and branded content. All data is stored and is easily available in case of an emergency enabling you to prioritise the safety of guests and employees.
Make the right technology decisions for your business – call to discuss your requirements on 0330 133 0902.