CCTV Systems for peace of mind
A CCTV system allows you to monitor activity for both manned and unmanned sites and provides a highly cost-effective means of surveillance compared to 'traditional' labour intensive solutions. CCTV systems have many advantages including business protection, as a deterrent for break-ins and vandalism, to review footage to identify the cause of incidents and provide protection for lone workers.
Cameras can be used in a variety of applications from automatic number plate to control vehicle entry and exit, to monitored systems to negate the need for a guard on site, to protect the safety of works, review footage to identify the cause of incidents and for marketing purposes to monitor customer numbers and demographics in and out of events and retail outlets.
We offer a range of CCTV systems from cost-effective single camera installations to advanced VMS/Cloud VMS CCTV Systems for large-scale projects. We will deploy a team of professional and experienced CCTV installers to install your security system and show you how to operate the system. Controls can be tailored to suit customer requirements and provide surveillance for both manned and unmanned sites.
Simple Multi-Camera CCTV Systems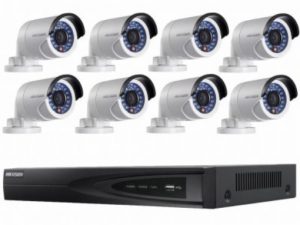 We stock a wide range of CCTV equipment which means we can advise you on the best security for your building – with a range of specifications and brands available, we can source a great system at a great price. We are AXIS partners and we work closely with Hikvision and a number of other brands. From cameras to DVR's & NVR's we can supply them all.
With networked IP video cameras, you can monitor your security from any location*. Hikvision also has a great mobile application which means footage can be viewed on your mobile phone.
We stock a full range, and we are happy to come and survey your workplace for any CCTV requirements you may have.
Advanced VMS/Cloud VMS CCTV Systems

For more advanced installations, we recommend an advanced video management solution from a market leader such as Milestone or EagleEye Networks. We are proud to say that we have been a partner with EagleEye Networks since 2015, and we cannot recommend their systems enough. It is an innovative cloud-based platform which can be monitored and administered from your mobile (iOS or Android).
A cloud-based VMS is particularly useful for managing the security of multiple sites across a large number of geographical locations. There are a number of different permissions levels that can be applied to various users which makes it excellent for large scale enterprise rollouts.
Call us to discuss your CCTV requirements on 0330 133 0902.