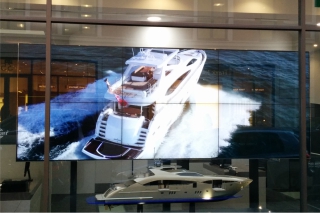 Sunseeker London is the leading distributor for luxury Sunseeker motor yachts and has a prestigious office in Mayfair London.  Nothing could be more fitting for this prime location than high-end display technology to attract high-end customers. The area benefits from healthy footfall and the externally facing video wall was certain to draw the attention or every passerby.
The high brightness video wall displays on-brand dynamic visuals and large as life images to engage every passer-by for a truly immersive experience in the thrill of the ride in a luxury yacht and also to feel like they can have it all.
The key requirements for this project were high brightness and reliability.  A video wall controller with Matrox processing technology combined with Visually Connected Digital Signage platform was ideally suited.  Feature-packed and hosted within a robust Azure infrastructure, VC digital signage could ensure the 'always-on' functionality that the video wall would need for 24/7 operation.
For high brightness and reliability, a dependable screen choice was also essential. Sunseeker opted for video wall panels from the Samsung SMART Signage range, specifically the UH55F-E which is designed for 24/7 operation.  The displays feature deeper visual impact and superb colour accuracy and brightness uniformity for a virtually seamless, life-like viewing experience.
If you would like to find out more about digital signage, or a video or media wall, speak to our expert team at Visually Connected and we will guide you seamlessly through the maze of possibilities to deliver on your specific requirement.
Get in touch today.