QSC Q-Sys & Shure – A formidable partnership
For more than 150 years combined, Shure and QSC have been two of the biggest recognisable audio brands on the planet. Their achievements are far reaching and cover multiple applications and many different markets. They both specialise in delivering professional audio/video system solutions, from power amplification to digital signal processing to microphones and delivery of digital audio.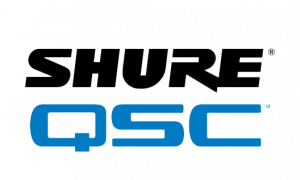 When you hear these two brands being mentioned you automatically think of quality and the crisp delivery of audio. This is why it makes good sense to investigate the full offering of both of these major brands in both meeting room and board room technology.
The key to a next generation video conferencing solution comprises of excellent quality audio and video. Shure & QSC have some of the best products on the market for the full immersive (feel like you are there) experience.
In today's busy corporate world, it is hugely important to realise how important the conferencing experience actually is. It may seems like an expensive initial investment, but the ROI (Return on Investment) is rather impressive as business travel can be reduced significantly.
How much money can you really save?
It's difficult to predict the actual cost saving  – however with the right conferencing solution, there is no need to travel and employees can work from home or from different offices around the world and still conduct important meetings, all of which, can be delivered in high quality. This offers significant savings in fuel costs, taxi fares, flights and also reduces the large carbon footprint business travel produces each year, which in turn helps the environment.
So what can you do with these products?
MXA310
There is a wide range of products from both manufacturers which all can be constructed in a modular way and form part of a complete meeting room or board room solution. Shure has always been at the forefront of the microphone technology and the MXA series of meeting room microphones are definitely  a game changer in our industry. Often, we use the table top MXA310 microphones which can be integrated into any space, whether it's boardrooms, huddle rooms or other multipurpose areas and used in conjunction with a Shure P300 IntelliMix Audio Conferencing Processor, you can be sure to capture every word and detail of the meeting.

Other key features include built in automatic mixing, so voices can be captured with pinpoint accuracy anywhere in the room. Ambient noise can also be smartly filtered out, to stop overpowering background noise such as fans/HVAC noise. It utilises a "Toroid" polar pattern to only capture table level audio, which can be encrypted and the whole ecosystem integrates fully with Dante.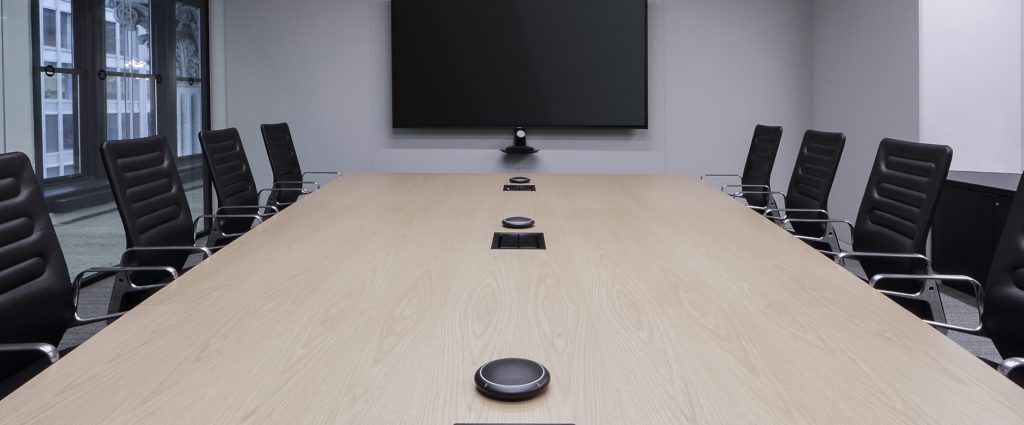 The MXA310 can also be table mounted or flush mounted and is available in a selection of colours and lighting modes to fit the interior design.
MXA910
For the real immersive experience and the highest possible level of clarity via your audio / video conferencing solution, we recommend to use the Shure MXA910. For naturally intelligible speech, the MXA910 will give you widespread microphone coverage at perfect audio levels, even if some room participants are naturally louder than others. With this state of the art technology, you will see no mounted microphones or trailing cables as it all comes from a ceiling mounted panel – a perfect compliment to the modern wireless office.
Be careful when you look for ceiling mounted microphones on the market, you might find some cheaper ones, but the most of them features only analogue microphones and lack many of the advanced smart features of the MXA910.


The MXA910 features built in automatic mixing, which is supplemented by the DSP (Audio Processor). Rather than a single analogue output, this panel features 8 steerable lobes, with each lobe having it's own independent Dante output which can be mixed by the processor itself. Combined with the IntelliMix P300 – this delivers the best immersive conferencing experience.
QSC Q-Sys Core as a Digital Signal Processor (DSP)

For a bigger room, or a room that is split via a partition with multiple MXA310 or MXA910 units, we will recommend to look at an alternative to the IntelliMix P300 for the audio processing. The range of audio processors from QSC, namely the Q-SYS Core 110f, 510i or the 5200 are good alternatives. The range can be utilised in a wide range of deployments from small rooms to large auditoriums or stadiums.
Mixing can be done manually or configured via presets for easy operation. Often, we use a Core 110f if in divider rooms so that the  audio works in any of the room combinations.
Incoming and outgoing audio can be processed as Dante channels or analogue audio, USB, SIP etc with a number of contact inputs/outputs also available for control purposes. The software suite includes next generation acoustic echo cancellation (AEC), multiple instance softphones, gain sharing and gating automixers. It is very easy to expand the room we simply add additional QSC Cores.
What does all this mean? – the QSC solution gives high quality DSP processing, along with extra features which can be used to accommodate any type of room/environment.  More users utilising this ecosystem are replacing the traditional video conferencing units with a PC and a quality DSP/Microphone based solution to reduce cost.
QSC Q-Sys Core as a room control system (Alternative to Crestron, AMX etc)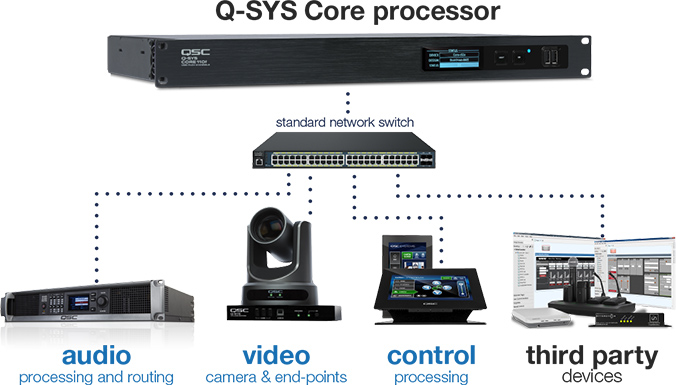 The Q-SYS Core processor is not only a DSP audio device, it can also work as a complete control system for  boardroom or meeting rooms. The Q-SYS platform brings audio, video and control together in a single processor, eliminating unnecessary cost for programming for integration of audio DSP control hardware and video peripherals.
Robust  user control interfaces (UCI) can be built by dragging any DSP or control element from the schematic into the UCI editor. Simple one button deployment can be made to one or more touchscreen controllers across a total enterprise installation.
It is  easy to control meeting room processes via the system. Cameras and audio can be easily be integrated into the project. Even third party devices can easily be controlled via the Q-Sys software. This solution is modular, easy to implement/configure and very cost effective – it only takes minutes to set-up a meeting room.
Why should you choose Visually Connected for project design and implementation?
We offer future proof solutions, highly qualified engineers, pro-active service, support and 24/7 monitored maintenance. In addition to this we are fully trained on QSC and Shure Microflex products and we are recognised partners.
Sources: Shure & QSC