If you want to be a part of a new cyber community, get on board with the Business Cyber Centre.
The Business Cyber Centre (BCC) in Wiltshire is the UK's first business Cyber Centre. As part of the SWLEP, the BCC aims to make all UK businesses more cyber secure enabling a greater level of resilience for UK businesses.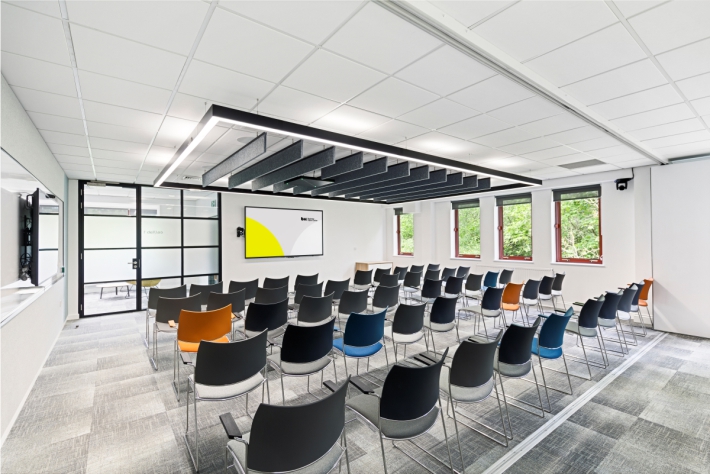 Preparing companies to be future ready
We believe that future-ready companies know who they are and what they stand for and grow by scaling up their ability to learn and innovate. The Business Cyber Centre brings together world-class resources, innovation, and opportunities to deliver an ecosystem dedicated to supporting and enabling safer growth of the UK cyber business. Visually Connected was delighted to contribute to their ambitious project to expand its local/regional roots to provide a national service offering to make businesses more cyber secure. Visually Connected delivered a whole building audiovisual solution to create a digital rich user-centric experience throughout.
An ambitious project that exceeded expectations
From concept, the 3.7m government-funded investment was mobilised in less than two years and the 3-story building was up and running in a little over 6 months – a fraction of the time and cost of its counterparts in Wales and Scotland.
The BCC is not just an aesthetically pleasing environment but an operationally efficient 'multi-use' environment combining architecture, design and integrated technology solutions – including, audio, video, video conferencing, control systems, acoustics panelling, ICT – network infrastructure & security and access solutions. The BCC is not just a space where people can collaborate and innovate without barriers, but a community and ecosystem committed to helping businesses grow safely.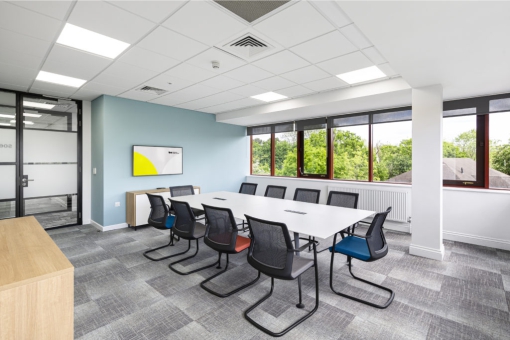 This is no ordinary building, and the technology solution is equal in its operational efficiency and procured to the level needed where the focus remains entirely on its users.
The latest audiovisual solutions for a versatile environment
Innovation expands to all aspects of the operation from reception to every learning and meeting space to breakout and recreational areas.  The Business Cyber Centre is a truly inspirational multi-functional space design to flex and adapt for future growth. It boasts the latest interior design and technology to facilitate learning creativity and productivity for the businesses and individuals who use its spaces. The building has a large number of offices for rent, coworking areas, a large café for events and an impressive multifunctional conferencing and training space, the 'co//lab', designed to offer the flexibility to suit events of all types, from multi-day conferences for 140 people to team away days and smaller meetings.  The co//lab is a modern hybrid space where its users can seamlessly connect through their preferred apps with their own devices, onsite technology and wherever they are with the same way of working in every meeting space.
High-end, flexibility and simplicity are at the heart of Visually Connected's design to create easy to use whole building audio visual technology solution that is wholly user centric to deliver a high-tech, digitally rich experience throughout its learning spaces, commercial offices, collaboration spaces and social areas.
Take a tour
From the moment you enter the building, digital screens in reception show welcome messages, meeting information to help navigate the building as well as news and branded messages. Further digital screens in communal spaces further enhance the visitor experience.
The café area is always event ready with an impressive 98" display where different content can be shown including up the latest information, videos, presentations and more. The audio solution in Café provides an excellent quality and comfortable sound.
All offices for rent are fitted with 50" screens and have the same easy to use solutions for connecting devices to presentation platforms for content sharing. Attendees can connect with unified communications through remote video conferencing solutions such as Teams, Zoom etc.
co//lab
The 'co//lab' conference suite is fitted with the latest workplace place technology including ceiling-mounted microphones, enabling full hybrid meeting capability as standard. The suite can be used as three individual meeting spaces for between 16 and 60 delegates, two rooms or one large conference suite for up to 140 individuals. Each individual room is fitted with a 65" display, a camera and a sharing device for easy content sharing and video conferencing.
Common across all co//lab rooms is a focus on consistent, high-quality user experience, standardised control of all solutions.
When the conference room is opened up to combine two or three rooms, users benefit from a 98" digital display together with two high-end cameras, with one camera capturing the audience and the other following the presenter.   The individual 65" displays installed in each of the rooms can be used a repeater displays or show additional content if required.
All the different technology features can be easily selected for different room combinations via a simple user interface on an iPad.
The co//lab has a dedicated breakout area with ample soft seating, soft cubbies for quiet working. A further breakout space is available for larger events, which includes a soundproof booth for quiet phone calls.
co//lab features:
65" 4K display screen in each room
98" 4K display screen when booking in co//lab 1 & 2 or 1, 2 & 3 combined
sharing device for content sharing and video conferencing
audience cameras in each room and one camera covering the full room
the latest presenter tracking camera
ceiling mounted microphones using automatic dynamic beamforming technology – highlights voice and reduces noise
iPad for easy room selection
controlled lighting levels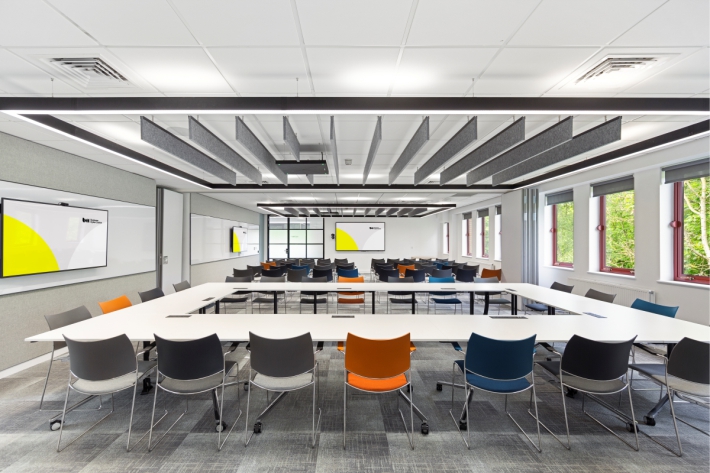 Get in touch and let Visually Connected design a future-proof audio visual and video conferencing solution that fits your company strategy and simplifies hybrid working for a more versatile working environment.