What is a control system?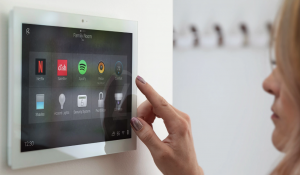 A control system is an integral part of any smart building or smart office used to control entire rooms, or areas within a smart building. In our experience, control systems fall into one of two categories, either complex systems that need to be fully specified depending on what type of items you wish to control, or quite simple covering just some basic requirements. Here we compare systems from two industry leaders:
Smart homes to smart buildings
Traditionally, smart homes and smart buildings are closely aligned with technology used in offices and commercial buildings. They incorporate advanced automation to provide the inhabitants with sophisticated monitoring and control over the functions of the building.
Control4 and Crestron dominate the residential market with Crestron having a firm hold within the commercial arena. However, there are some new exciting products that are strong contenders.
Control4 is a popular product being modular and easy to install, however it doesn't carry the advanced user interface customisation of its counterparts. It is ideal for an out-of-the box installation, therefore if your requirement is straightforward, we would recommend Control4.
Crestron

Crestron is the biggest name in the industry for audio-visual control systems. Started in the late 1960's, they have led the way in home automation and smart building control.
Being at the forefront of the industry, you will find Creston control systems within a variety of environments, from luxury mansions to the boardrooms of some of the world's biggest corporate organisations. Part of the success of the control system they provide is that there are no limitations. The system can be integrated with equipment from literally any manufacturer, and the designs of touch panels can also be completely customised to control a huge variety of systems, from lighting, temperature, multi-media, security, window/door operations as well as many other functions.
Because of the system design, the full scope of each project needs careful consideration before implementation, as each project will be built and programmed specifically for the client project. Visually Connected are proud to support and sell Crestron systems – so if you have a bespoke requirement, please let us know. For reliable control for large projects, we would be pleased to assist you with the process from the design stage through to project management and delivery to ensure seamless integration.
ATEN Control System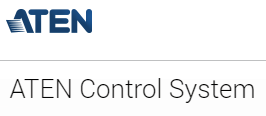 ATEN has been a manufacturer of KVM systems and computer peripherals for many years and regularly receive glowing reviews online regarding the connectivity and stability of their products. Where a tighter budget is required, the ATEN solution is a perfect choice, particularly if we consider how much the ATEN control system has matured since it's launch in late 2015.
Furthermore, ATEN regularly updates its control system along with all of the firmware for their hardware devices, so you can be sure that your platform is both up to date and secure.
The robust system design of the ATEN product makes it easy for the integrator or end user to make changes to any designs and upload them back on to the controller. It is also modular so that devices and views can be added or removed at ease without the costly expense of a programmer.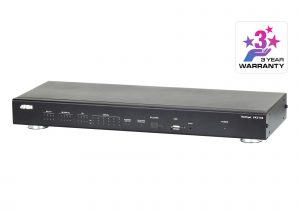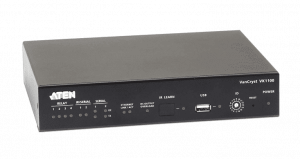 ATEN Control System VK2100 & VK1100
The system is based around either a VK2100 or a VK1100, which is essentially the main controller, or the heart of the control system. This is the central processor which deals with all the commands and sends them to the relevant outputs. In essence, you create a project file and a copy of this sits on the control system.
In order to operate the programmed functions, you can easily create a front-end layout through the ATEN Configurator Software which can then be deployed to any tablet, whether an Apple iPad or an Android device. (For example, a Samsung Galaxy Tab 10.1).
As you can see from the example above, the software is incredibly intuitive and allows for the easy creation of multiple tablet views that can be relayed to each controller. It will also cope with complex scenarios, which is impressive for a system that does not use separate programming to achieve the same results.
We have been both surprised and impressed by the ATEN software suite, and have been able to satisfy the majority of client specific requests without having to create unique coding. We have also discovered that you can embed 'how to' videos into your viewers and it integrates with digital signage allowing you to responsively press a button and load a PowerPoint presentation on a specific slide. We've even built in 'cooling down' and 'warming up' slides for those older projectors!
The ATEN Control system is versatile and easy to use and, with a small amount of training you too can administrate it and make changes. The Crestron system front end would be a challenge for novice users to operate.
How scalable is it?
So far we have explored a solution for smaller buildings, but exactly how scalable is it? The answer is not yet, but the beauty of the ATEN system is that it can work well for a building with 1x room or 100x rooms as the whole system setup can be designed as a modular system, with one single VK1100/VK2100 having the capability to simultaneously control devices in three rooms.
There are several connectivity options and commands can be sent in several ways, either via Ethernet, Infrared, RS-232, Relay Chanel, I/O Channel, or via Telnet/SSH/TCP/ONVIF/PJLink etc. The built-in library comprises of 10,000+ drivers. For ease of installation across larger estates, there are also some expansion boxes available to place within a room which can be linked to the central control module/VK unit. These are, VK224 – 4-Port Serial Expansion Box, VK236 – 6- Port IR/Serial Expansion Box, VK248 – 8-Channel Relay Expansion Box.
Because of this advanced connectivity, you can be sure that the ATEN system has the capability to control your devices, whether it's a Lutron lighting controller over RS-232, a 65″ TV over Ethernet, some blinds via IR or a heating system that takes TELNET or SSH commands.
For more information, or for a demonstration on any of our control solutions, please call 0330 133 0902 to e-mail sales@visuallyconnected.com.