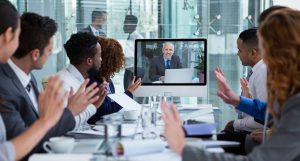 The technological evolution within the business world in the last decade has enabled businesses to transform the way they operate. With the increase in remote working, employees and clients all over the world, it's no wonder that many companies are investing in the latest meeting management technology, but do they have the right AV Support?
The latest Audio Visual and Smart office technology has fantastic benefits in terms of increased efficiency, productivity, cost savings and even well-being. However, this technological transformation also presents a unique set of challenges – often companies forget the most important things such as on-going training, support, maintenance and software up-dates.
Fantastic innovative areas and meeting rooms can be embarrassing if a simple little thing decides not to work or the expensive video conferencing system does not turn on as it should.
Delays brought about by missing connectors or screen-sharing software that doesn't work can be disastrous for important meetings. What often results, aside from wasted time, is that employees lose faith in the new technology and revert back to the 'old way of doing things'.
Companies are often relying on their in-house IT to make sure that everything is in order with their audio video equipment and operating correctly before important meetings, conferences or presentations.
The problem here is that, quite often, the IT department does not have the time, the right skills or the knowledge required to monitor all equipment, to avoid downtimes and make sure that their colleagues have been trained and know how to use the systems.
With the new smart systems, it is possible to take some preventative measures and monitorall devices 24/7 to maximise the operation, carry out the relevant health checks, software updates and produce relevant reports. With the right maintenance system in place the most problems should be resolved before they even appear but it is still important to have a reliable support team where you can get professional help and advice immediately.
Another key factor is to make sure that all employees are trained in the use of the equipment and kept up to date with all changes including software updates. Having the correct support and maintenance team/system in place will dramatically reduce cost, save time and avoid those embarrassing moments.